Hello everyone; I hope that u are enjoying the weather where ever u are at. We have a lovely 95 degree where we are. I have not posted in a few days, So I also hoped that u all enjoyed
ur
Holiday!!! We spent the holiday with my family down in L.A. it was good they had a BLOCK party which was nice because we did not have to go any where to watch fireworks.. I think the Family that hosted the party must have had an inside tract with someone because they had to most beautiful and spectacular fireworks.
Any ways wanted to show my tent card that I made for this weeks challenge over at Design2Delight. I used this weeks freebie which was called "Wish Big". What made me give this card a try was because
Design2Delight
has now also become a Challenge blog called
Doubled Delight Challenge Blog
. This week was their first challenge. Please take time to hop over their and check them out, the
DT
out did them self's with their projects.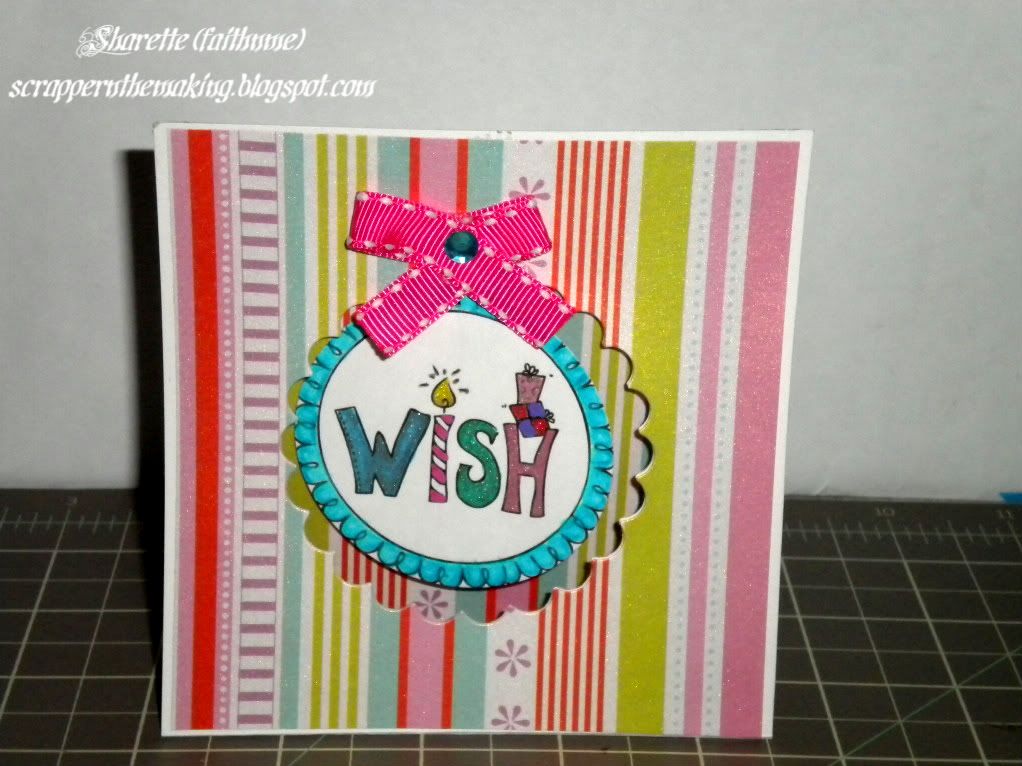 Recipe
Card Stock:
PTI
, DP:S.E.I -Ally's wonderland (cute paper I got from Michael's-great sale at 7 papers for $1.00 u cant really see it too good but the paper is a metallic.. very cute), Image: colored with
Sakura
Gell
pen and the edges colored with
prisma
and OMS, cut with
Nesti
: Circle and Large scallop, Ribbon: Michael's
Blessings,