school colors and
Green
and Black and her favorite color is
yellow
Good evening All; today my oldest daughter Brianna and her friend went to their friend's graduation , She was so excited about being able to go, (only a few tickets to go around). I told her I wanted her to enjoy it and to see it as what she is working so hard for and what is her goal for next year. We have been playing around with a great new product from Michael's (new to me!!). It's spray paint for fabric, it's not in a spray can or has a strong fumes as that. Just paint in a spray bottle and so Easy to use. It is in the
Girly
Isle where they have the American Girl crafting supplies. We made her friend a shirt, and after hers came out really cute, they decided they wanted to make their own with their class of 2011 ( I can't believe my daughter will be graduating from High School next year huh!!!!!!
I got to use my
cricut
again, to cut out all the letters and the images to go with it.. Love Love my
cricut
. I used Everyday paper doll, Black letters and Home decor. added some
bling
.
Ohhh
I almost forgot.. look at my stamp, my first try and attempt at "layering and altering my
digis
:0)( Cute graduation images were two images from
Birds Cards
. and I added the 2010... I was so happy when I did it. funny thing is if u where to ask me I could not explain right now.. But I won't stop practicing now!!!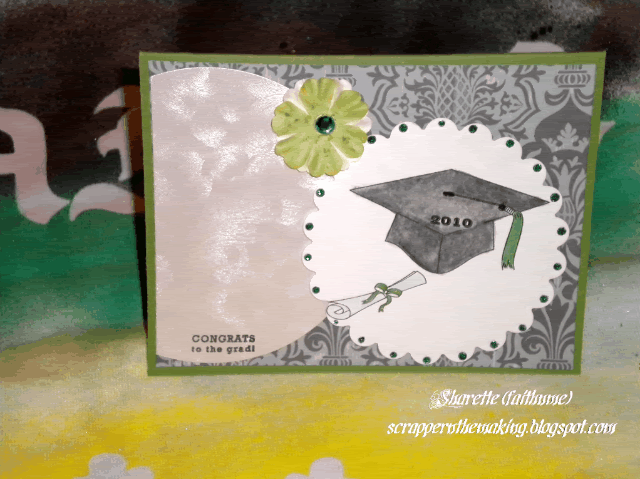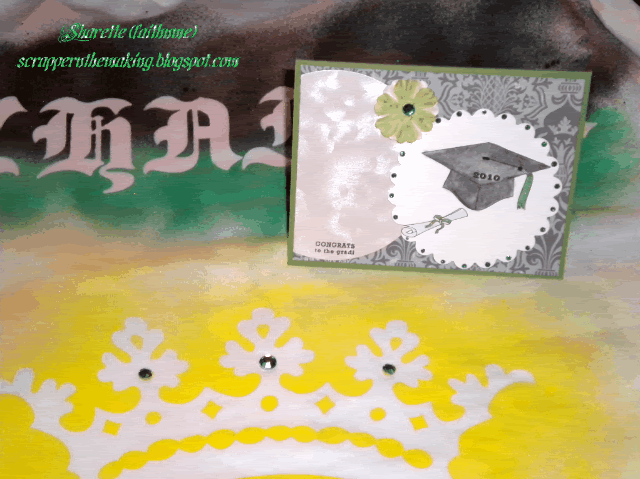 Card stock:
Bazzill
, DP
Michaels
( Sweet Romance)
Cricut
, images cut with circle
nesti
and colored with
prisma
and OMS and
Sakura
gel pens,
prima
flower, and
Bling
Blessings,