Happy Friday: hope everyone is in high spirit and looking forward to a FAB weekend. I am having a great day so far. I got to do a little card coloring and making today. Such a Funny story just now.. "I am sitting in the living room at my craft table and I look up and see the UPS truck stopping in front of our house.. now my DH was sitting on the couch so he could not see BUT the dogs started to bark so he asked " who pulled up so I said "
omm
the UPS truck, so right away he asked "what did u order now" he knows me
soo
well
LOL
.. any ways it was my order from Custom Crops. I will share what I got a little later, maybe on my next post..But it was so funny that I got BUSTED and could not deny it. (luckily my DH is a "little understanding" of my crafting :-)
I want to share my first "Gate Fold card" with u. ( I have been really stepping out side my comfort zone lately!!!. I have several images from the
Stamping Boutique
and so I waned to pull one out and give it a try. they have this GREAT line call "Jennifer Latte". I colored her with my
prisma
and OMS and outlined with my
Sakura
gell
pen. and for the inside I used a sentiment from
Create with TLC
(she has the best sentiment and always dishing out "freebies") I hope u enjoy :-)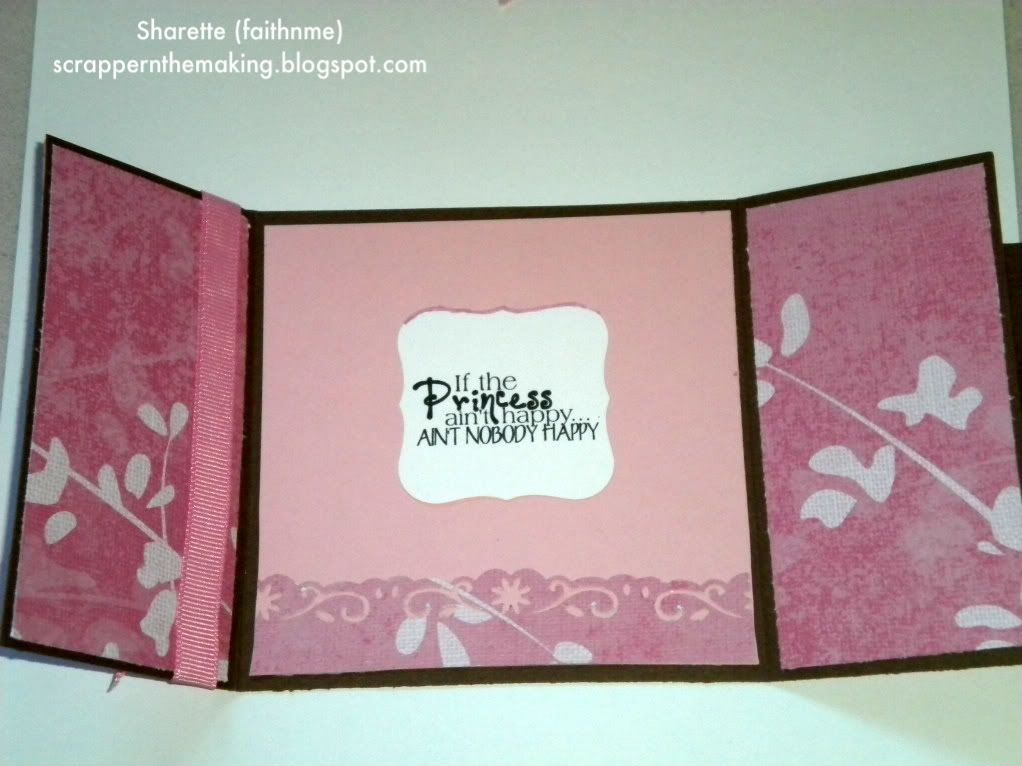 Recipe
Card stock:
PTI
, DP (?? Michael's),
Nesti
: Labels, stamp:
PTI
,Ribbon: Oriental Trading,Punch:Martha Stewart.
Challenges:
Blessings,