OK another quick post.. Yes as much as we want to think that we R super heros' even " Wonder Woman needs a break..Very Busy Day.. trying to to laundry and clean house (always better to leave it clean when you R gone for more that 2 days.. LOL.. Well to tell you the Truth I am watching " Dancing With the Stars and double checking my "To Do List" to make sure every thing is done ( the last time I left my baby's
Blanket
.. Yes she is 5 BUT can NOT and will NOT go to sleep with out it. She has remind me at least 3 times already that she will not eave it and she is going to hold on too it. ( She does not like for me to wash it!!!!!! so I have to take it as is!!!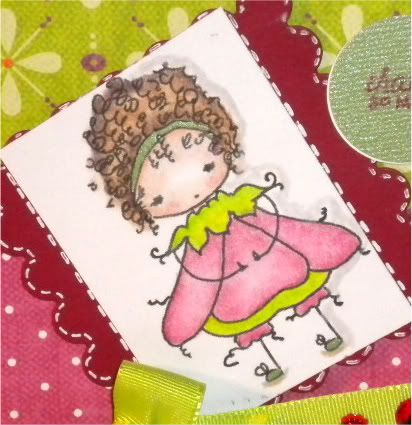 This is my very Fist
"
Baby Bud

"
stamp ( Please if you have not go by and visit their Blog) and I just LOVE her .. I REALLY LOVE HER.. whats NOT to LOVE.... Look at that face.. it is like looking at my little one.. I can't believe how time has just flown BY.. she is 5 and the Full Ruler and person in Charge of this house (and we ALL love it :0)
I colored her with prisma and OMS. I also used my sakura gell pen just to add a little sparkle to her head band and shoes. My DP is from My Mined Eye's Christmas collection "Colorful Christmas. I love this paper and purchased the Full 12x12 paper pack and I love it and Yes you will be seen a lot of it :0)
Ribbon is and Red Bling is from Michael's.. I think I Have ONE more card to post
So say to ALL of you a very Blessed Thanks Given to you ALL... May your table be filled Not just with food but the Blessing of Family and Friends and even those who continue to touch our lives.
This Card is all so for the following challenges:
Thanks and Blessing to you All,