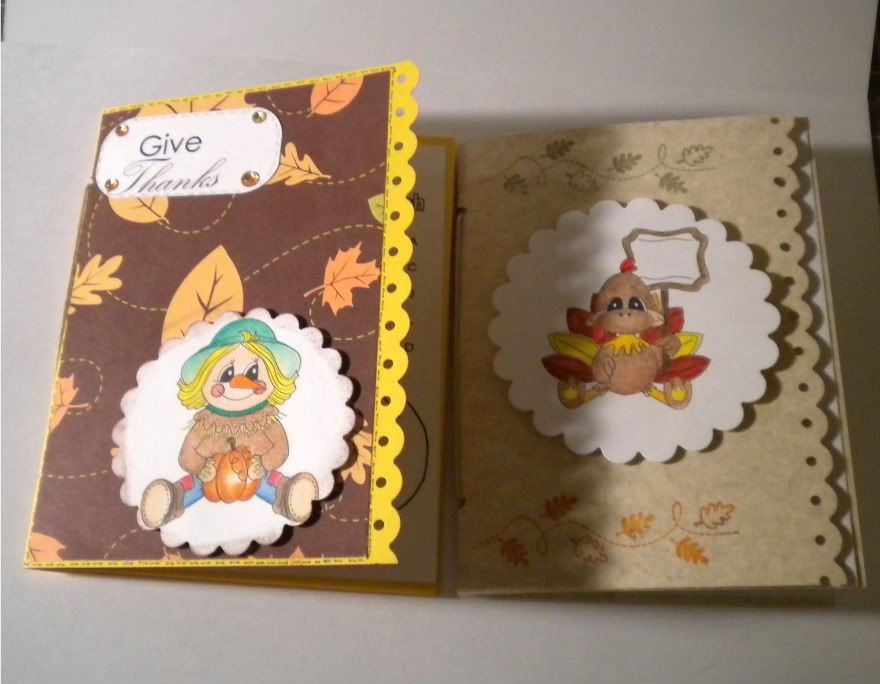 HAPPY Friday everyone I hope we are all enjoying the day.. it really can make your head spin to think about how fast the days are flying by.. I can't believe that Thanks given is just a few days a way.. I am still putting away all of our Halloween decorations and even candy :0)
We always do thanks given at my mom's house with the rest of the family soo we will be driving down to LA on Tuesday or Wednesday (still trying to decide) now I know like the rest of us our house will be filled with little ones (host of nieces and nephews.. Plus our own... and of course after the excitement of seeing each other wears of they get a little restless. So this year I deiced that I would make these little "activity books" for them to keep them busy. Now no way am I taken the credit for this. I got this idea from a Tutorial
Digital Delights by Louby Loo
. I also just happened to have the turkey and scarecrow from their Freebie Friday. so it just worked out perfect for me to create my little books.
Tammy (her blog is HERE)
was the DT that give this tutorial ( so I must give her the credit.) she did an Easter book and even gave the PDF of the activity sheets. I did mine with a "Thanks Given" theme I went on line and got the activities and just followed her directions and I LOVED IT..
This is an inside view of my book. a total of 4 pages with a front and back cover
I showed two books. the first one is more for my Challenge. Of course I colored it with Prisma and OMS I used my circle scallop Nesti and used a little distressing ink around the edges I used the DP in another project but I used soo little of it that I wanted to show off more. and used my EK success Treading water punch to decorate the front cover.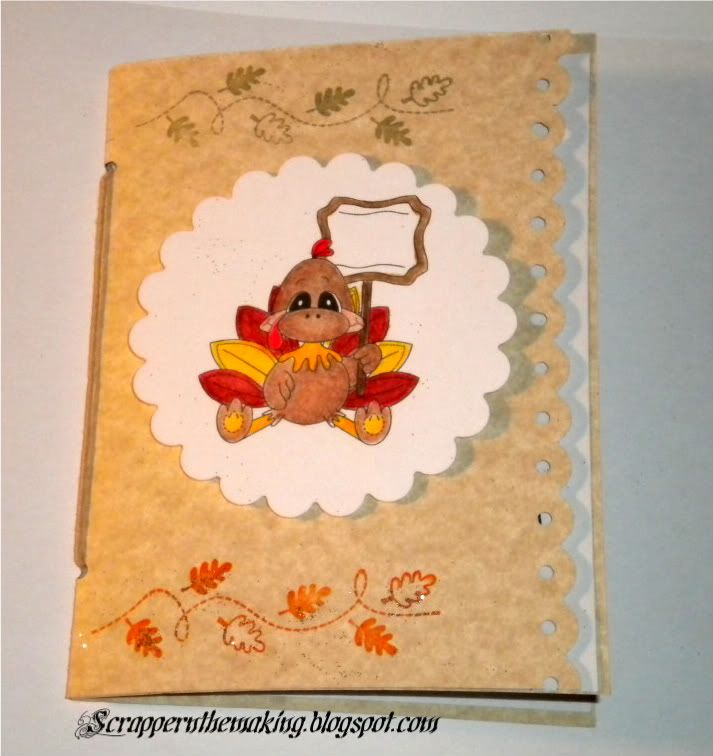 This will be the ones that I am making, I know little ones arent' soo much in to the details of things,, LOL they just want to get inside and see what they get to color and play it. so I won't be adding any DP or charms or embellishment to it. But I do love this leaf stamp and so that is what I will be using.. I stamped with two different color and added some glitter to add SPARKLE .
So this is my weekend project. I have about 6 more to make and then I am going to bag some crayons ( like they do at Denny's LOL and give on to each of them with their activity book. I hope you like it. I know that my family will and hopefully we will get at least 15 min of quite time HAHHAHHA (hey we can hope can't we.
This is for the following Challenges:
Happy Scrapping,