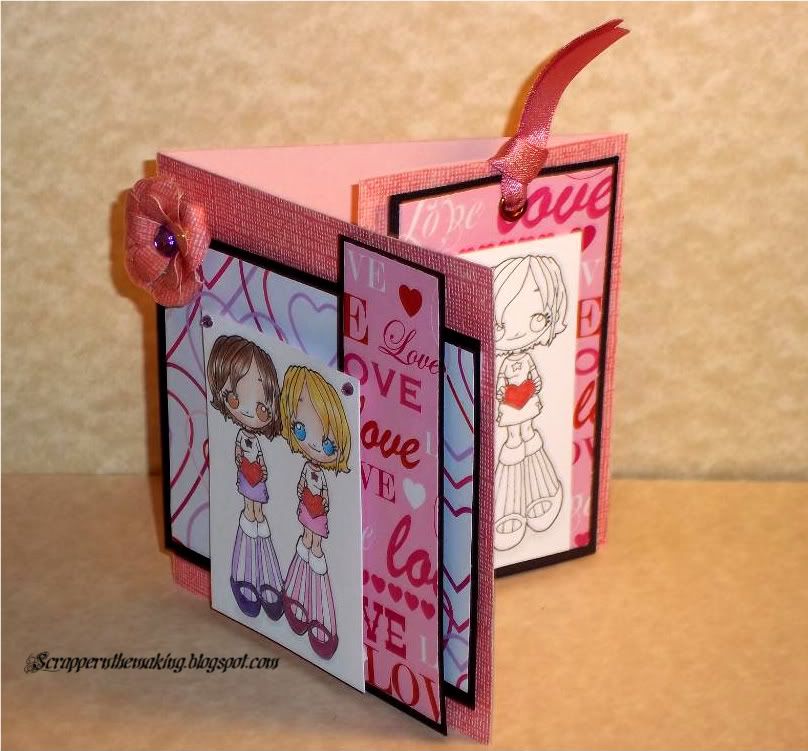 Sorry if my Post are getting a little "Longerrrrr and Longerrrrrr" just have lots to say these days!!!
Ok here is my 3 "n" 1 for the first challenge over at
SOG
.. Take one
image
and use it
three
different ways. This was a Lot of fun and a great way for my to challenge my self. (ok this is only 2 soo far!! :0)... I made a card and "detachable" bookmark using
Kaylee
. I found the tutorial
here
. I used my very first
SOG
image.. I think it was 1 year ago that
Kristy
first gave out this sweet little girl.(Thank You !!!
For the front of the card, I copied Kaylee twice and flipped one soo that it looks like their standing side by side.
Sorry about the bad lighten. I also decorated an envelope to go along with the card.(This is my 3rd..I cut out half of Kaylee with my nesti. you will see that she is not colored just as on the book mark. ( I learned this technique thru a challenge at ??? where else blut SOG (SNR digi day:0))))))) I only wanted to focus on the heart. You will see them colored the same in all 3 images. I said that I challenged my self with this one and I did.. But was it ever soo fun to create, and that is why I love this creativity that I never knew was in me let alone possible.. Anyways!!!!!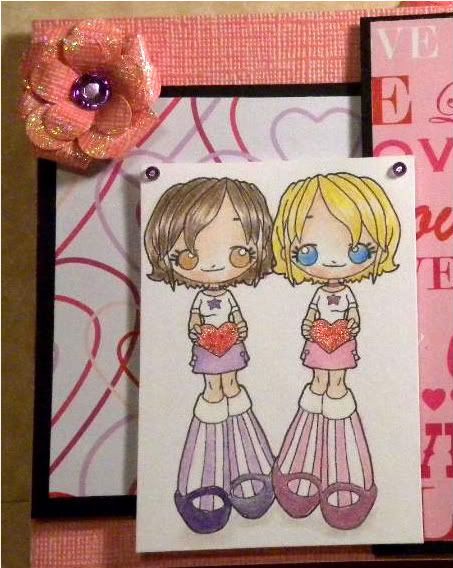 Here is a up close view of the from of the card and the bookmark. And please have a look at my flower. Yes I do so love getting a chance to make these and showing them off. And I found my "own" and yes I mean "own" way of making them and when the "nervous" take their correct place I "will" post a.. do I dare say "tutorial".. heheheehe ( just makes me giggle just saying it.. hahahaha. Images was colored with "Prisma Pencils" and OMS. oh and this was my "first" time coloring Blond hair too... ( I usually only do brunette's and black hair.. But I gave it a try.. not too bad right?? Card stock: can't remember the name right now.. ( did get it from Joann's.. Black car stock: PTI & Bazzil (bookmark). DP, more of my Target paper that I got last year.Flower (me and my Cricut, bling also Target Ribbon: (from a gift set that I won.
This is the Card and the bookmark. Which can be detachable because I used my "perforator"... I love making things besides cards and to combine the two.. WOW.. I have done a "bookmark" card before, but not his size which measures 41/2 x 4 1/2.. so it's just the perfect size for that special friend.. My daughter has already "calmed" it..