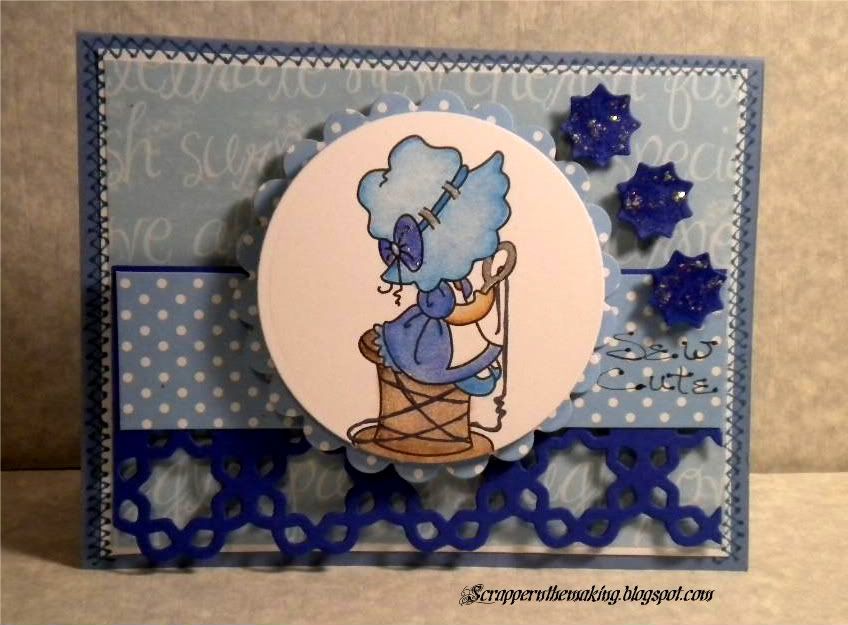 OK here is my card for the "
Blue
&
White
challenge over at
Bugaboo
. I used this week's freebie "
Sewing Sunbonnet
.. Look at her bonnet.. I just love it. and I finally used my "boardability from Spellbinder. I just love it. and look at my embellishment's they are from the die cut.. I just added some stickles and pop them on with a pop dot.. ( taking about "not wasting paper" :0))))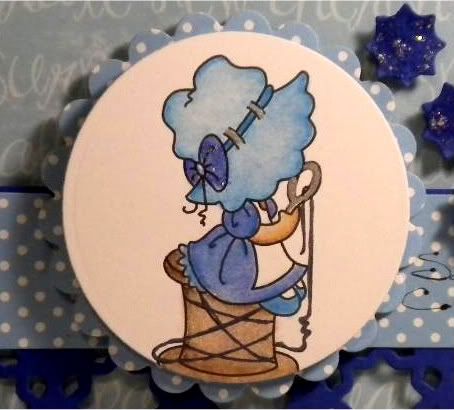 Colored with my Prisma and OMS.. and of course my "sakura" gell pen in Blue for her "bow".. I then cut her out with my circle nest and also the scallop nesti for the boarder. Card stock is PTI. DP is from a Scrapbook set I have and the Polka dots is from Martha Stewart. ( an Older scrap pad that I have been had.. Looks like I will be playing with is a little :0) The sentiment is from me.. I want to start doing more writing on my card. .. and did I mention the "Faux Stitching" with m Martha Stewart fine craft pen.. ( I don't own a sewing machine) Any ways I hope you enjoy it. I will be back with a few more Bug and SOG..I want to see if I am able to participate in ALL of the challenges.
Challenges:
Happy Scrapping,