Hi everyone.. Wow it's been a few days since I last posted :0(.. Sorry I had to take care of a few "persona" stuff!!.. But I am back and ready to play and share. Today I want to show my card for this week's challenge over at
The Greeting Farm
FFF..
This week is to make your card "Pop" with a 3D effect. I choose Miss Anya Collection-Shopping. I Love this set and even though I have had it for a while this is my "first" card that I have made with any of the stamp is this collection.
I cut her out 3 times and then popped her up on each other. To make it even more soo I "paper pieced" her shopping bag ( truly a Lady after my own heart.. hehehe.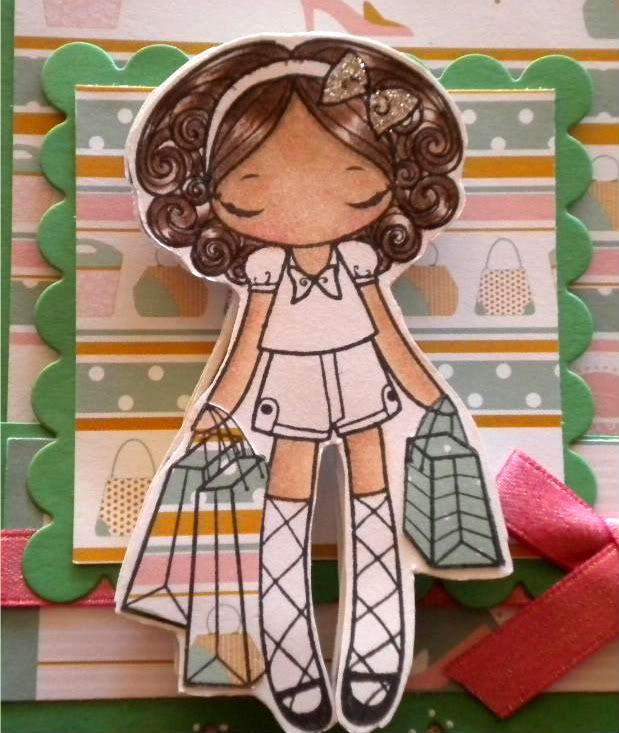 I did NOT use any coloring on her clothes or Shoes.. I only colored her skin & hair and of course added a little "stickle" to her gorgeous bow. ( My little DD colored a picture last week for a card she made and she did pretty much the same thing. Only she colored her clothes and hair and left the rest and it was soo "cute" that I wanted to try.. It's funny that I had to look at my 5 yr old for some inspiration.. :0)
Now for little EXTRA something special. For my DP I used Nikki Sivils 6x6 paper pack of " Ellie's Day Out".. Which went soo perfect with Miss Anya. What makes it special is that Tomorrow (Wed) one of my cards will be
"Featured
" on
Nikki's Blog
. I did a card a few weeks back where I used ONLY
Nikki Sivils
DP and one of the DT saw it and she asked me can she feature my card for her "Monthly" spot light on projects that she finds around Blog land that have at least 80% N.S. on it.. "Are you Kidding me" I asked her over and over again.. between her laughs she said she was NOT and that she "loved" the card and was for certain that she wanted to show case.. YES!! YES!! I said soo if you would like to see it Again (or for the first time :0) Please stop my and leave some LOVE .
Challenges:
Happy Crafting,