Hello everyone. Wow does it seem that the weekend gets "shorter & shorter". I hope that you are enjoying it no matter what. I am showing you a card today featuring another "
Baby Bud"
stamp... I LOVE these stamps.. I
Really
mean that too, as I was coloring her I was thinking to my self . "I sure could color a ton of these and find "New styles" for them Every time.. I just purchased this one from the
Esty shop
over at Baby Bud... If you R new to these you should check them out..:0)
This weeks challenge over at
"The Pink Elephant"
is a color challenge of
Red
,
Pink
&
Brown.
The best part is that it is being sponsored by "Baby Bud" so I can use it in that challenge as well as the Monthly challenge over at "Baby Bud as well and their theme is "Friend ".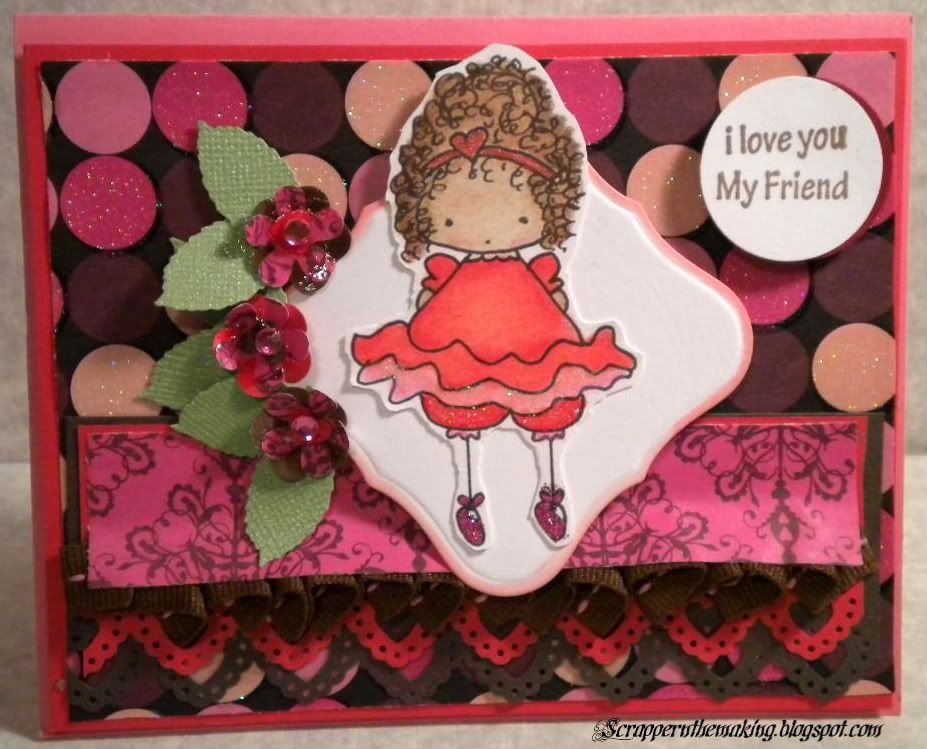 This card was just soo fun for me to make.. Look at my gorgeous DP paper. I got it from "Target" in the $1.00 bend. They had some really cute ones so I picked up a few and will be making cards with them ,, I can't wait :0) and again only $1.00 for a pack of 8. I did the "pleating ribbon" technique ( if that's what's its called?? ( you can see it better in the first pic. ( I got that ribbon from Wal-Mart... I used my Martha Stewart Heart punch boarder in both red and brown card stock. My Flowers I made with the scraps from my DP using my EKsuccess punch and my Martha Stewart leaf punch ( I have had that for a while but don't use it much.
I colored her with my Prisma & OMS. and for her "super sweet head band I used my "Red Sakura" gell pen, and stickles for her ruffles/and shoes. of course she had to have some sparkle :0). also added some bling in my flowers. Used my Nest Tag and distressed the edges with Tim Holtz "Worn Lipstick" ink I love you Sentiment is from my "Puddle Jumpers" Ella mini set. (I love it) and stamped with Memento Rich cocoa. Then every thing was popped up with tons of pop dots. I hope you enjoy her and have a blessed day.
Challenges:
Digi People
Happy Scrapping,