Hello I want to share my cards that I have created for the challenges at
SOG
Digi day over at
SNR
. I love these little stamps and I have collected quite a few of them over the last few months. Well yesterday was Digi day where the DT came up with some Awesome games and Challenges. I had planned to participate in some of the games ( I think I played 1 of them lol.. Well we survived our first full week of everyone going back to school.But I think we all knew yesterday was Saturday and so we ALL slept it a
lot late
lol
But when I saw the challenges I wanted to start coloring and enter. For this Digi day their was a total of 3 card/project challenges (well 3 is what I did !!) the and so here are my card for the Challenges.
My first card is for the first Challenge..
Ice Ice Baby
We where to create a card with your favorite ice cream flavor. I went with the image: "3 Scoops" and my favorite Ice cream sandwich flavor of course it's
Nea
politan
I colored them with my prisma and OMS I also used a little Tim Holtz to distress the edges . the paper is October Afternoon (the front and back side), two paper flowers with some pearls I used my EK success punch for the boarder and the sentiment is form a cupcake clear set stamp and stamp with Memento Rich Coca the ribbon is from my scraps and added a little faux stitching with my white gell pen.
this card is all so for the sketch challenge over at
Sketch by Carly
( she is only 11 yrs old,, BUT ohh so talented please stop by and see her blog
My second card is for the Second Challenge is Fun with a Twist.. One Layer with a Ribbon and embellish the boarder
This one I was not too sure about. But I still gave it a try. For my Image I used "Baker Kaylee". again colored with my prisma and OMS. and Sakura gell pen. I also used "cupcake glow" aren't the cupcake just too cute I love with the the candle. I did not use any DP but stamped the card stock with my cupcake clear stamp and embossed with with EK success and clear embossing powder ( I love embossing but just have not practiced with it too much :0).. I cut her out and used my Zig two way glue to apply her to the card stock, the ribbon is from Michael's and the sentiment is a part of the same stamp set ( I will have to tell the name later) and for embellishments I used my Pearls from BasicGrey
And my last card is for the 3rd challenge "Masculine" for this card my Image is "Tobie and his dog" I just love this little guy I had these papers with the dog patterns and did not know how much I would be using them so I was glad to use them on this card. I also love using my Cricut and want to use it a lot more in my images and projects. The little embellishments (bone, bowl and bed) was cut using EDPD.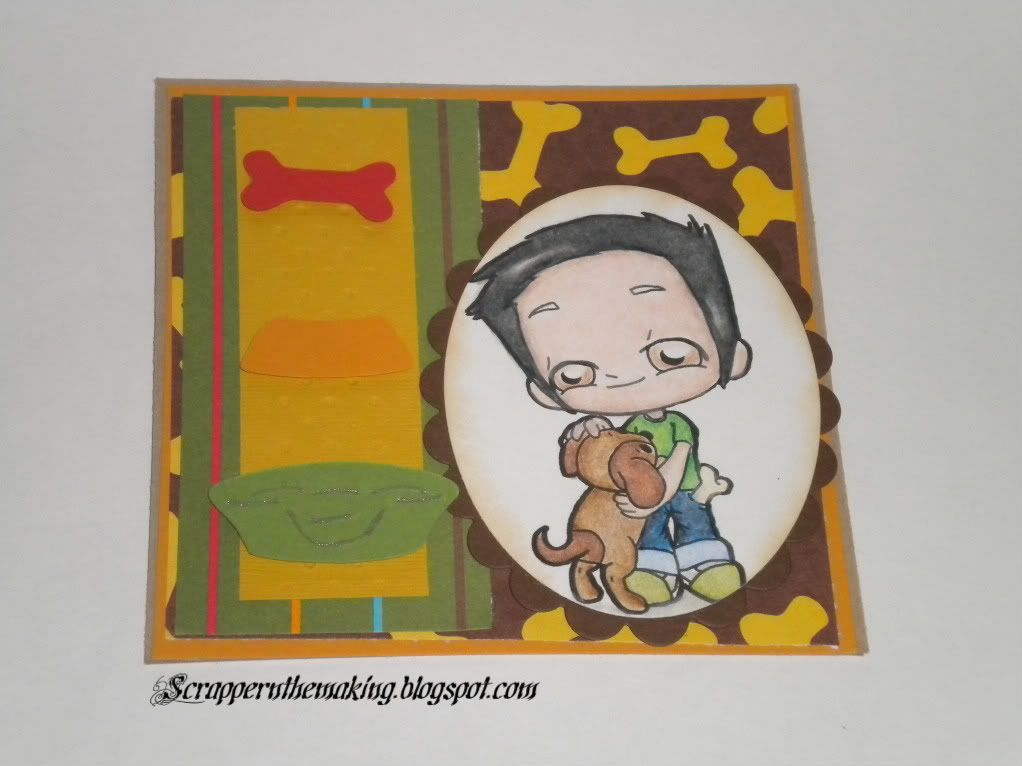 Wow yes this was a VERY long post.. but I just wanted to share what I love doing.. and I thank u for leaving me such sweet "feedback" and please feel free to give "positive criticism and well to
Hugs,