Hi Everyone It's Sunday Morning and I am still up. I wanted to share my card with you that I have entered in the second challenge of
SOG digi day
. Our Challenge was to Print our Images on Kraft card stock and color them. Now this is something "totally New to me!!!!. I love using my Kraft for making my cards, but I have yet or even thought of "printing or "stamping" with it.
This is however not the first time I had seen the technique. A couple weeks ago The "Super Talented" Jen Shults from
"deconstructing jen
" gave a tutorial on
"Faux charcoal
" with your Prisma and OMS.. Now again before two years ago I had never even heard of "Prisma pencils" as until her tutorial I had never heard of this technique. But that is Why I love this wonderful world that we get to play and create in. You learn something new "EVERYDAY" :0). I love the fact that Jen is someone who is soo talented with her pencil and that she is soo willing to share some of her talents with us. So many blogs and projects about Copics and Promarkers. I just can't get enough of learning how to get better with my Prismas. You Must check our her blogs because she has soo many techniques NOW!!don't get me WRONG now the Girl can get down with some Copics too. I just love her. ( THANKS JEN ;0))))))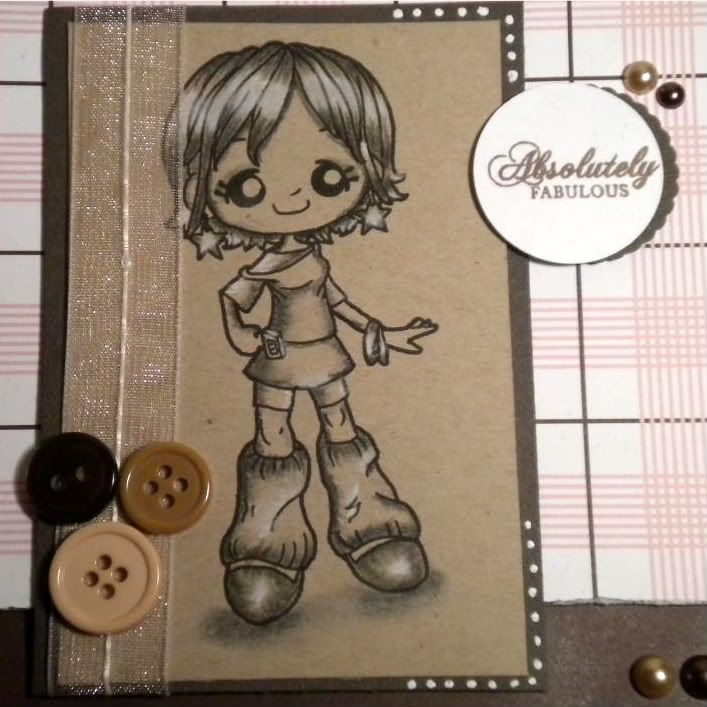 This again is my very first attempt I don't even know if I did it correct. But you know me I am always saying that I love to step up to the challenge to try something new. And it was soo fabulous that is just went soo perfect that the ladies of
SOG
choose using kraft for this digi days challenge.... Now how about this little lady she is soo
Fabulous
and she knows it. This is
80's Kaylee
( hehehehe I love her because I am an
80's girl
. I still remember my "leg warmers, my shirt with the lower cut on one side that where wore over our shoulder..hehehehe and look she even has a "beeper" on her hip.. Who did not a beeper. That was what we used before "cell phones'.. hehehee And guess what Kristy is retiring a lot of her images including her, with a 50 % sale going on at her
shop
until 7 p.m. tonight EST. So I was glad to be able to snatch her up before she is gone forever. The only two colors that I used for this technique were my "Black and White Prisma pencils and my OMS. that was it. I will be practicing this technique a lot more.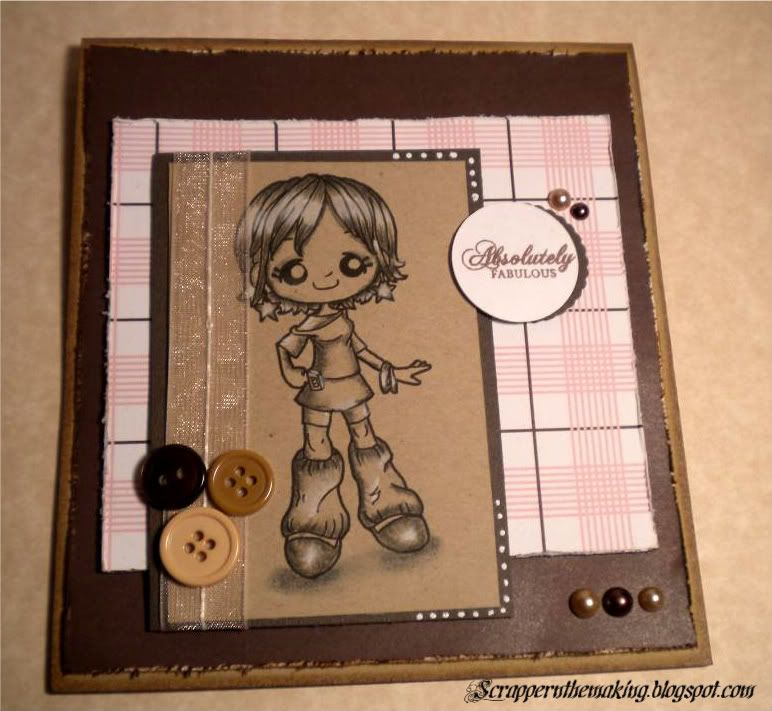 Because of my coloring I wanted to keep it kind of "vintage" so I kept this card really simple too. I used Kraft card stock as my base. Inked up with Tim Holtz "vintage photo distress ink. my DP is the same just front and back, I used my distress and distressed both papers. and added Kaylee to brown card stock. I added this cute lace pink ribbon that I got in a gift package. added some buttons and some Pearls from Basic Gray. Sentiment is from PTI and stamped with Memento Rich Coca ink. and used my "white gell pen to add some little embellishment.
I hope you guys really liked it. and be "kind" remember it was my first try at this .
Hugs
Allsorts challenge
blog-Sentiment
Craft Us Crazy-
Any Thing Goes
Happy Scrapping,