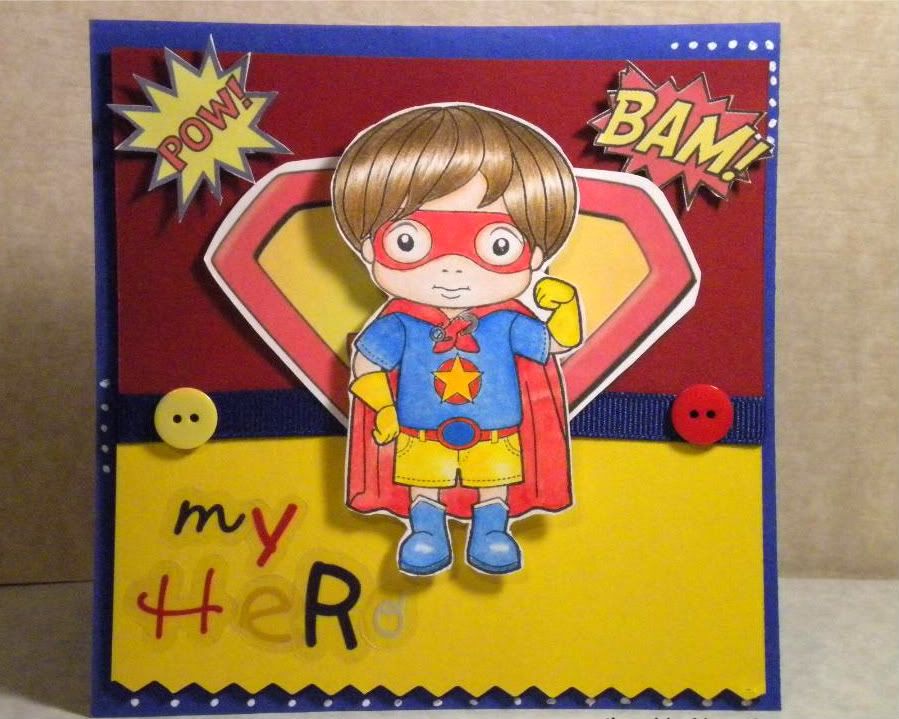 Happy Friday everyone another week be hind us. I know that my kids are looking forward to a nice 3 day weekend. I am a little under the "weather" today, we are passing around not only our love but also a nasty cold to each other in my house and I have just been "tagged". with it, :0)
I want to share with you my card today featuring my "Blog Candy" win from a week or so ago, that I received from
Lisa
over at "The
Crafts Meaow"
(Thank you Lisa I hope you like it:0)))). Say hello to my newest "super Hero
LUKA;
from
La La Land Crafts
He is in Rubber ( remember I said in my last Post with
MARCI
( I totally missed spelled her name the last time.) they come in both Rubber and Digi. I stamped him on White card stock from PTI with my Memento Tuxedo Black.
Is he just not the cutest little guy. I know that he reminds us ALL of your sons when they were this age. I can still remember my youngest Jordan running around the house with a blanket tied around his neck and he was off the "save the world" hehehe
I hear it from a lot of crafters that it is some time very difficult to do a "masculine" card, We never want to make it look too girly or not masculine enough an still be something we
ahh
over. and it was no different for me. I knew how I wanted him colored, ( Prisma and OMS) but after I could not thing of or saw in my stash any DP that would work for him.
This is what I finally came up with. I did not use any DP or pattern paper. Card stocks are from Recollections (Michael's). Ribbon (which is Blue and I think Masculine has I have. is from Wal-mart. I will say it again they have some very cute Ribbons for great prices. I found the little sentiments and logo behind him as "clip art" on the Internet. (They were like the saying from the TV show Batman & Robin. I just re sized them, printed and cut them out. The stickers are form my stash and I just added some white gell pen (not too crazy about it know that I am looking,
Challenges:
Happy Scrapping,