YEAHHHHHHHH... I just maid my very
FIRST Design Team
.. OMG can you believe it.. because I still can't. My face is hurting soo much from all this smiling.. I was dancing, and singing . ( My DH wanted to know how much do I get paid. believe me when I say that I knew that would be his first reaction. Then he told me that he was very "proud" of me. hehehehehe you guys; can it get any better than this. I could hardly believe it for real when I saw that my name was on the list for
"By Lori Designs
" You all know I have been creating with several of her images and now to be a part of her AWESOME DT. :0)))))))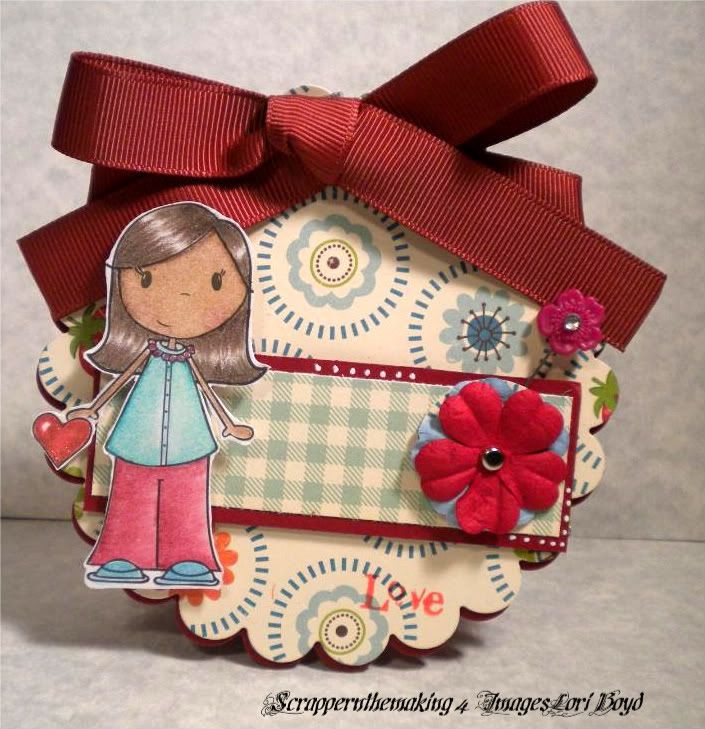 I will be featured in next week's challenge, but that does not mean that I can't show off my latest project/card and introduce you to one of the newest image that you can find in the
shop.
Please say hello ( if you have not already ;0) to
Ainsley
Is she not the cutest girl holding her little "heart valentine". I love Lori's challenge because they are "color challenges" which are soo Fun and very versatile. I colored her with my Prisma and OMS. Her heart and neckless was colored with my Sakura gell pen. I love they way Lori and lots of you all cut out your images leaving just a "tin" white boarder ( I am still Learning that as you can see, but I know that with more practice I will become better with it.
I made a Scallop Circle card this time around with my 'largest" Nesti. the DP is
October Afternoon's
"Fly a kite."
My Prima Flowers, Hat pin is from K&CO. I used my white gell pen just to add a little dimension around my boarder. My sentiment "Love" is from PTI it did not come out too good (but that's ok Right?? :0)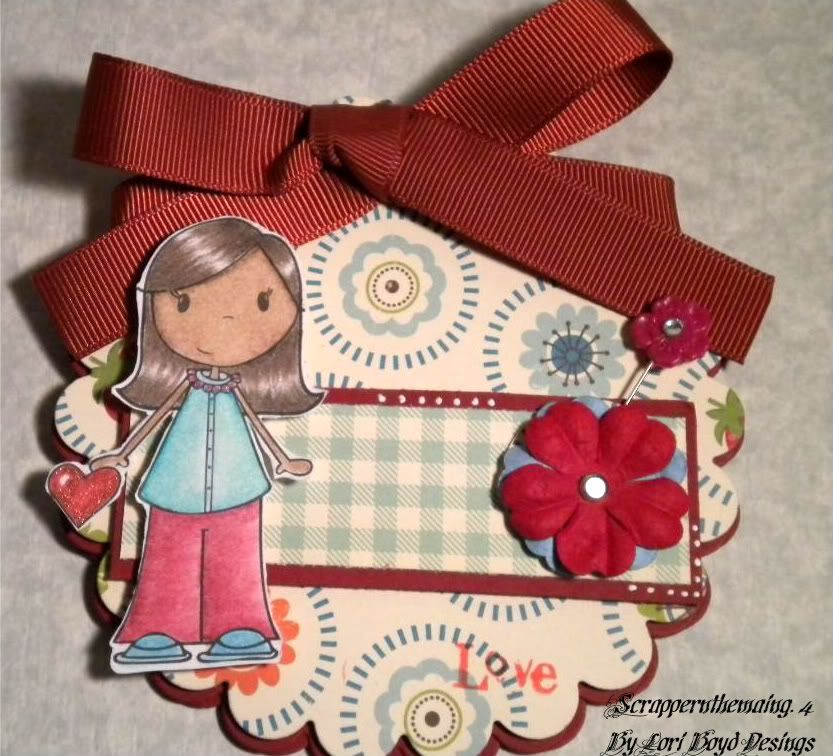 Grosgrain Ribbon is from the "dollar tree" ( love finding good bargains like a $1.00 for any thing especially my crafting supplies. I used pop dots to pop everything up and she is ready to be some one's Valentine. I hope you ALL will join us for some fun and great prized at
By Lori Designs challenge
. I can't wait to see what you will create because I know it will be Fabulous. Thank you for letting me share my wonderful news with you all.
Hugs.
Happy Scrapping,