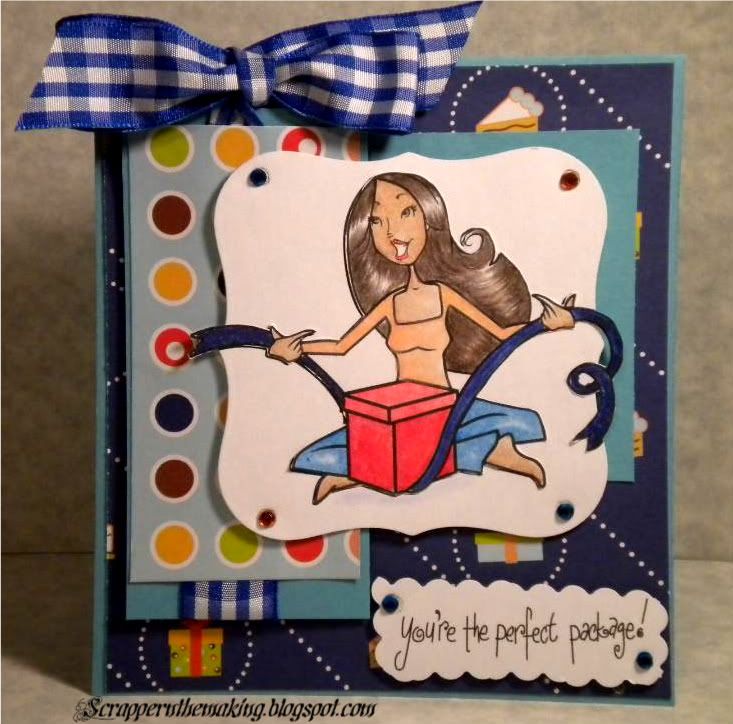 Ok I am back with my 2nd posting for today/tonight ;0). Do you like me have soo many stamps, but soo "little time" hehehe I am sure we can all
relate
to that. I have had these "super" cute and cuter stamp set from "
Amber Ink
" called "
The Perfect Package
"; from sometime last year and every time I go in to my files on my computer they are the first ones' I see because of the "Alphabetical order" that they are in. and I tell me self all the time that I need to print them out and use them. So I finally just did it. and I am soo happy that I DID because I have found a new Love ( even though I pretty much feel like that with all of my stamps.. hehehe. These stamp sets are soo versatile because you get soo much in the sets that you can do much with creating them and turning them into "that" stamp that you need to create the perfect project. This set come with 15 yes
15
stamps. ( did I mention that I got these for "free"... They were given as "freebies" when Amber Ink was just starting out on her blog.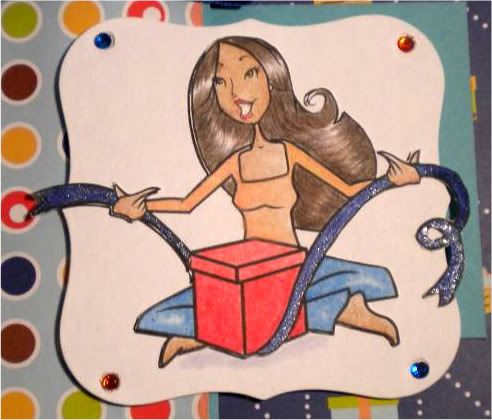 I have really been playing a lot with my "photo" software I have "Serif Photo plus2". (I also just downloaded "gimp" but have not got down to the nitty-gritty of that one yet. But looking at it I think it has the basic feature and concept of my "Serif". So I copied her twice and removed all of the "white" behind her and then pasted her into "Words". I then cut out the bottom image with my Nesti , colored her with my Prisma and OMS and my M.S glitter to color her Ribbon with this gorgeous blue( I just love it). she is soo happy to be wrapping that gift for her "someone special"hehehehe
Another stumbling block for me most time is finding the right or sometimes "perfect DP" to go along with my image or theme (which ever it may be). This was not "scrap" per say even though I only had a half of a 12x12 piece left. I think I was just trying to save and hold on to it for that special image( which I believe I found with this one). I got this again from sometime last year I ordered it from "Oriental Trading". I just love them have love them for years even before I was into crafting and card making. This was a "whole" scrapbook" kit for I believe under our around $5.00 ( can't remember.. But I do know it was cheep and well worth what ever it was that I paid. Card Stock is PTI, my Ribbon I think is just as "gorgeous" as my image is from Wal-Mart" I wanted it to play off of her ribbon that she is using. I love the size and the pattern. Sentiment is also from this stamp set I cut it our with my "paper shaper" scissors. and added some "bling with my I-rock.
Sorry for "rambling' but you all know I do that from time to time:.. I have some VERY EXCITING NEWS to share with you all.. So that will be in my next post. I have been smiling about it for the last few days and can't wait to share. :0))))))))))))))
Challenges:
Happy Scrapping,